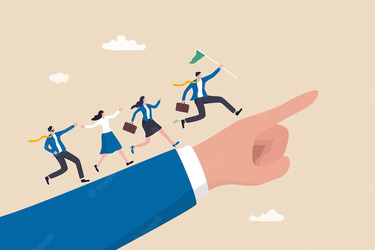 Harish makes the leap from Technical to a Business Leadership role!
Harish was a successful, experienced delivery head in an IT services company who moved to the next level when his boss left for a different assignment. For the first time, Harish was handling a P&L level leadership role and this involved him taking on two completely new elements – managing finances of his business and leading business development. Harish was a pro when it came to tech skills and domain related knowledge.
He was naturally apprehensive about these new responsibilities but being ambitious, was keen to take up the new role and prove himself. He had a good start when he realized that although his seniors were now peers and erstwhile peers were reports, they all accepted him quickly, thanks to the credibility he had built in the organisation.
His challenge lay in another area. Easily able to earn the customer's trust with his technical knowledge, he usually came into the picture only after the contract was in place. But in this role, inspite of his good interpersonal skills, he found himself at sea while making a pitch to a new customer or even managing the sales team. Within a few months of him taking over, the sales numbers began to display a worrying slide.
This induced a new level of stress for Harish who was accustomed to success! As a measure to battle these falling numbers, Harish told his team to identify potential customers and rushed from meeting to meeting, trying to convert their needs into business for the organisation. These customers who were meeting him for the first time looked lost as they listened to his deep dive into the technical aspects of the project. Almost as lost as his sales team did when he spoke to them at their meetings.
His boss could see that Harish needed some help with transitioning out of his old role and into the new one. He suggested coaching and Harish was more than open to it. CFI was approached. Our coach, after discussions with HR and the boss, during the course of the coaching assignment, helped Harish work with his strengths and prioritize his challenges. Picking up on the importance of the business development function for Harish, a brainstorming session ensued on how he could make a beginning to learn the sales role.
The idea that he could accompany the sales executives at senior level meetings, allow them to lead the conversation and add value by suggesting technical solutions to the customers, really appealed to him. He understood how to leverage his strength better and gain new business for the company. Another area identified in line with Harish's strengths was using his technical knowledge and project execution experience to identify and remove roadblocks from all existing projects under his charge.
This was very much up Harish's Street. His focus in this area resulted in smoother and faster execution of projects as also faster invoicing and less disputes with customers leading to faster payments. This not only lifted the sentiment of the sales team; it resulted in one of the lowest receivables (DSO) for Harish's business. Further, the coach made Harish see that his action had resulted in lowering the working capital requirements for his business.
This is a positive contribution to the company and of equal importance as revenue generation. The coach encouraged Harish to report this in his business reviews along with the DSO numbers. This fact was received favourably by the Management. The finance head congratulated Harish about his lead in the matter. This did wonders to Harish's confidence which had nosedived in an earlier review where Harish had fumbled when he had just taken up the role. Higher customer satisfaction also had some positive rub off on the sales numbers. Satisfied customers were now willing to receive new business proposals from Harish.
Harish became more comfortable in the world of finance as he attended a programme on Finance for non-finance managers, in addition to doing relevant reading suggested by the coach. He was also encouraged to reach out to the Finance team for support. They were more than willing! Harish slowly gained enough confidence to discuss with the coach his own ideas on how to reconfigure the pricing so that it was less cumbersome to customers and more profitable to the company.
The coach helped him put his thoughts together and present it to the management. As the weeks passed and the coach gathered feedback from various stakeholders, it became clear that Harish needed help with a few more things – executive presence and the fact that he needed to be less aggressive with his reports.
Harish, who was quite taken aback by the feedback from his reports immediately started being more mindful of his interactions with them. While he personally hated wearing a tie and felt small talk was a waste of time, the coach helped him get a new perspective on his executive presence. He was guided to see how others in positions of influence were likely to form impressions about him based on his appearance and how initial impressions thus formed may take time to alter.
Soon the coach found Harish focusing on his listening, improving his presentation skills and even making changes in his choice of clothes. As things started coming together, his confidence in himself grew and he started to feel much more in control.
The coach knew his job was done when Harish made changes to the way his team operated and did not feel the need to wait for his boss's approval whom he merely informed. Harish had transitioned from a technology leader into a business leader.