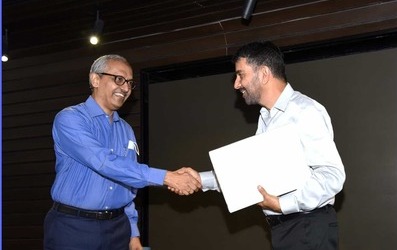 The being of a leader – a fireside chat with Pradeep Kar – MD Microland
The much-awaited CFI Bangalore (In-person) chapter meet saw cheerful CFI alumni turn up to attend a very well curated Fireside Chat between Mr. Ganesh Chella, the Co-Founder and Managing Director of CFI and Mr. Pradeep Kar, the Founder, Chairman & Managing Director of Microland. A true serial entrepreneur, Pradeep has founded and sold Indya.com to Rupert Murdoch's News Corporation, Planetasia.com which was India's first Internet professional services company and Net Brahma Technologies. The event was held at the Bosch Learning Campus on Monday, 17th Oct 2022 and was also live-streamed to enable those outside Bengaluru to participate.
The slightly delayed start due to the Bangalore traffic blues on a busy Monday evening, worked well to provide for some light-hearted banter and camaraderie between the Chief Guest and CFI Alumni. Chapter Vice President Mr. Sri Krishnan did the honors of formally opening the event and inviting Mr. Pradeep Kar and Mr. Ganesh Chella to the dais. In his opening remarks Mr. Srikrishnan spoke of Mr. Pradeep as a person who went after big challenges and he shared with us a question that Mr. Kar had posed in another forum where he asks, "Can India be the solver of a Planet Sized Problem"? That was the kind of big picture that Mr. Pradeep Kar operated from!
Mr. Ganesh Chella in his signature style quickly got down to sketching for Mr. Pradeep Kar, a canvas of CFI covering its beginnings, journey and the impact made by our Coaches across Indian companies in the world of Executive Coaching.
His opening question to Mr. Pradeep Kar. "What excites you most about entrepreneurship?" led to Mr. Kar sharing with us some of his cherished memories on the journey that brought him to this point. He spoke about being a greenhorn automobile engineer to working in the Dalda business of WIPRO (much to the chagrin of his parents), and then on to working in what they imagined was a computer shop called Computer Point in Mumbai to later helping Sonata Software get off the ground in the US and finally coming back to India to start Microland. Interestingly, his plunge into entrepreneurship was taken in the License Raj days, a time when entrepreneurship was considered a dubious journey and most probably not even ethical!
The rest of the fireside conversation steered across different aspects of entrepreneurship. He spoke about how tech driven business are creating models for business 50 to 75 years from now. He also spoke about opportunities available today, the new nature of talent' and the key to managing talent in a time and space where the definition for loyalty has changed. He finds the defining characteristics of the current generation of Indians to be aspirational, fearless and ambitious.
We also got to know more about Mr. Kar as a human being – a lot of his success could be attributed to the fact that he is a great people person. Being very disciplined and committing himself a hundred percent to all that he does, his mantra is 'focus on the present; the rest can wait!'. Being very methodical and fiercely obsessed with what he sets out to do, being in the moment is very important to him.
For us Coaches, there were some simple gems that dropped out of some simply-put moments, when Mr. Kar spoke about how important it is for us to be relevant to the people we work with; as a parent is to a child. He dwelled on the importance of having conversations that motivate and leave people energised, especially through difficult situations.
When it came to the topic of talent acquisition and selecting individuals for key roles, his dictum is 'What a person is able to learn is far more important than what a person knows'. In short, he believes a combination of humility, fierce resolve and willingness to learn are the key elements for being effective as well as successful professionally.
Mr. Pradeep also spoke of the need for greater sensitivity towards women and how being respectful to all aspects of their lives have helped more women come aboard and excel. He also discussed how hybrid work models have become a mainstay in the way business is done today and how such models are creating opportunities that women can take advantage of.
In his closing remarks Mr. Pradeep Kar focused on what he felt was important to the workforce today. He said, "Employees today are looking beyond financial stability from their jobs, they want a more balanced ecosystem". He stressed on the importance of leaders and companies being human, staying concerned and caring. He went on to say "We need to be sensitive and caring members of society. This will help foster an empathetic society".
The enriching evening was formally brought to a close with the Bangalore Chapter President Mr. Krishna delivering a heartfelt Vote of Thanks, highlighting some of his own take aways from the conversations of the evening. He specially acknowledged and thanked Mr. Pradeep Kar for the time that he so generously and graciously spent with us. He also thanked Bosch for offering their amazing facilities to host this event and finally the CFI alumni that attended the event in person and online as he brought the curtains down for the evening.
It was an evening well spent.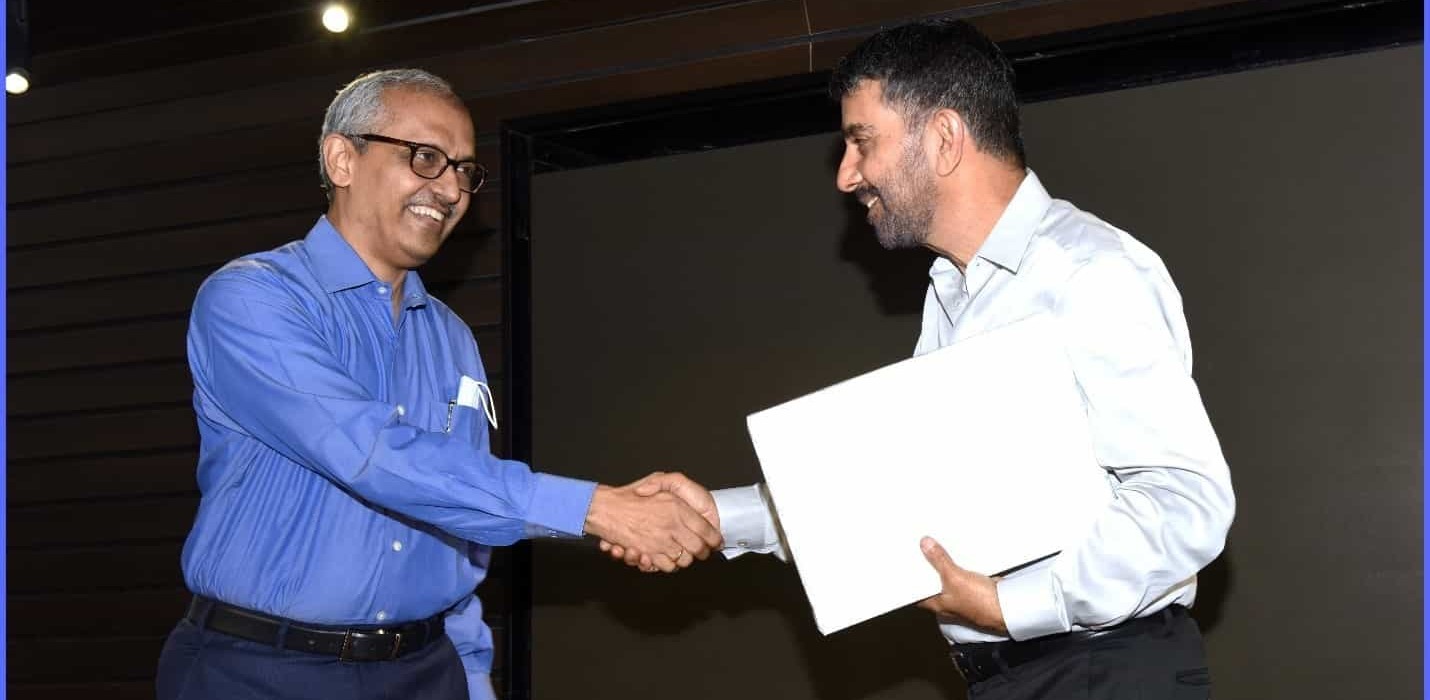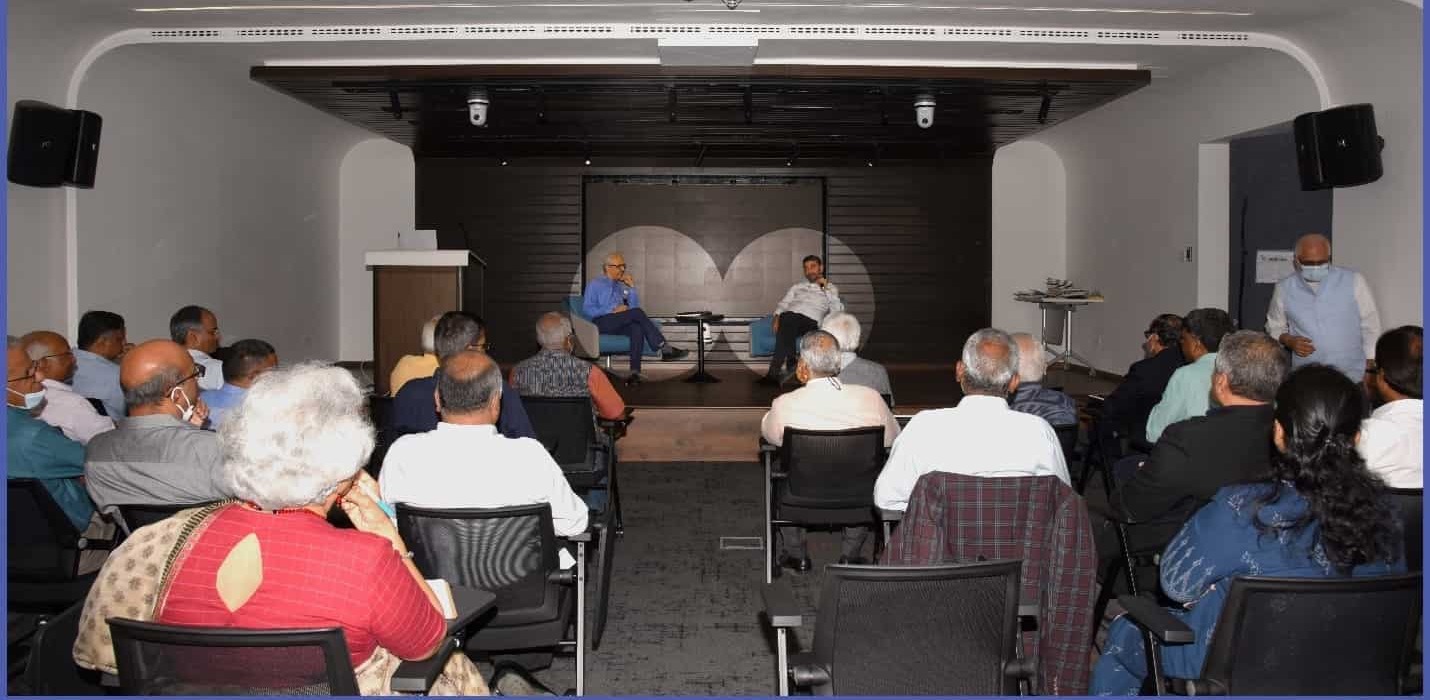 Article by David Istacky, A Krishna & Sri Krishnan
Photo Credits – BG Dwarakanath