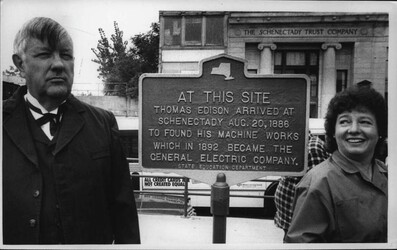 Is there a new way of learning and leading at GE?
GE's famed Crotonville, started way back in 1956 to grow leaders from within has been put on sale. For the thousands who have been enriched from the experience of being there, there is nostalgia, shock and sadness.
How bad can things be that much celebrated GE decided to sell off what was in the eyes of the world a great symbol of management and leadership excellence?
In my mind, the sale of Crotonville is symptomatic of the much deeper and even historic challenges that GE has been grappling with for several years. From bad strategic choices to poor governance, there are several issues that have been written about.
What strikes me as worthy of exploration is the role of culture, leadership style and effectiveness and its far-reaching implications on the sustainability of a legendary organisation built over more than 125 years.
Culture is the shadow of the leader
Jack Welch was CEO of GE between 1981 and 2001 – for twenty years.
In 1999, he was named Manager of the Century by Fortune Magazine. He was also called Neutron Jack, for eliminating employees while leaving buildings intact.
Published in Jan – Feb 2000, Michael Maccoby's article titled Narcissistic Leaders describes narcissism as a personality style and its prevalent among corporate leaders. Who are they? The article describes them as Gifted strategists and courageous risk-takers who inspire others and drive their organizations toward a compelling future.
It of course points out their weaknesses include garnering adulation and success, feeling invincible, ignoring cautionary words and taking flagrant risks. Add to this, listening only to information they seek, dominating subordinates, being sensitive to criticism, lacking empathy and having an intense desire to compete. They are the superstar CEOs— actively self-promoting leaders who dominate the covers of business magazines.
Maccoby included Jack Welch as an example to make his point of their pros and cons. Interestingly, his article which was published in early 2000, describes Jack Welch as a productive Narcissist, meaning more pros than cons. (as seen in 2000)
Clearly, as a narcissistic leader, Jack's shadow appears to have left an indelible mark on the culture of GE.
Now comes succession. Jack Welch is quoted as having said in a 1991 speech, "From now on, [choosing my successor] is the most important decision I'll make. It occupies a considerable amount of thought almost every day." Jack's succession planning efforts like many other things he did were widely written about and hugely admired. It was even seen as a wakeup call to the corporate world.
Jack Welch had set in motion a competition for his succession among three hand-picked high potential long time GE managers. They were Jeff Immelt, Bob Nardelli and Jim McNerney.
Jeff eventually won the race and took over as CEO and Bob Nardelli and Jim McNerney left GE.
On June 12, 2017, GE announced that Immelt would retire as CEO and would be replaced by John L. Flannery. Immelt stepped down in October 2017, after 16 years at the helm.
During Jeff's time GE was named "America's Most Admired Company" by Fortune magazine and one of "The World's Most Respected Companies" in polls by Barron's and the Financial Times. Jeff was named one of the "World's Best CEOs" three times by Barron's.
Flannery however served as CEO from August 2017 until October 1, 2018 only. Prior to ascending to the CEO role, Flannery held leadership roles inside GE for nearly 30 years.
In April 2018, Henry Lawrence "Larry" Culp, Jr became chairman and CEO of General Electric. He was the first outsider to run GE in the company's 126-year history.
It may be simplistic to conclude that Jack got his succession wrong and the going has been rocky since.
Some argue that Jeff worked to undo the challenges he inherited while creating his own too. Some say the legacy was too deep while other say 16 years was enough time to set things right and it is not fair to talk about Jack Welch 20 years after he stepped down. Others argue that the "top down" and "by any means" culture that had long set in contributed significantly to the challenges.
Books like "Lights out" (2021), "The man who broke Capitalism" (2022) and "At Any Cost" (1999) shed a lot of light on these matters.
For a balanced view, you may like to read Jeff Immelt's 2021 book, "Hot Seat: What I Learned Leading a Great American Company".
As GE struggles to recover, albeit as three entities, it is useful to ask ourselves and ponder over some larger questions:
What are the pitfalls of narcissistic leaders and the cultures created by them? How hard is it to change it? Do the roots of their culture run so deep?
What are the challenges of transition when such leaders move on? What kind of leadership will it take for the new leader to deal with changing strategy and culture while continuing to ensure execution and great results? What support will such a leader need?
What is the role of the Board in all this?
At a larger level, does culture eat strategy for breakfast or does leadership eat culture for lunch?
Does succession planning have its limitations when there is need for profound change? In other words, is a leader from the outside a good thing, every once in a while, in the history of an Organisation? Especially when significant amounts of groupthink have set in.
Is market capitalisation as a measure of a leader's performance and effectiveness, a double-edged sword? (around $ 400 B in 2001 and around $ 85 B in 2022.)
The impermanence of fame and the eternal greatness of the people
Narcissistic leaders and those around them have a habit of using superlatives all the time – "the greatest ever", the "best ever" "the world's most powerful", "most successful", "Most respected". This comes out of a sort of hubris and distorted view of history and geography.
What is unfortunate about these cycles of claims to fame and then fall from fame is that it hurts the pride and the lives of the thousands of bright women and men who give a big part of their lives to invent, create and build great products and services that touch and transform the lives of people across the globe.