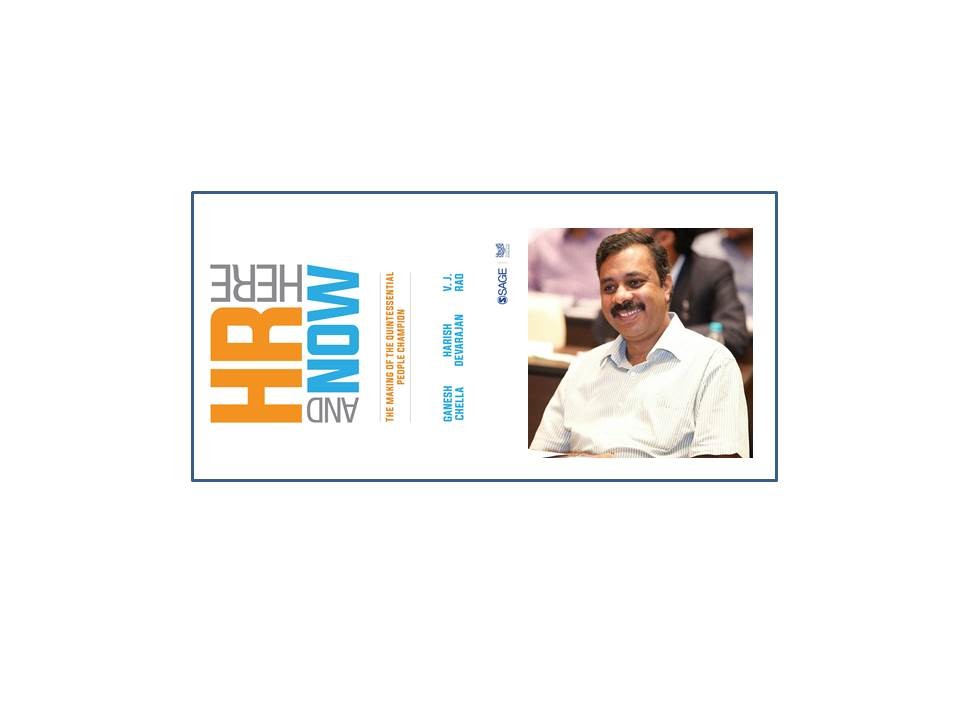 HR Here and Now, reviewed by Prabhakar Lingareddy
"Yesterday I was, tomorrow I will be, but only here and now I am" – Human Angels
A few years back I had the privilege of being invited for a workshop to reflect on emerging trends in HR. It was a very different experience because of the format, the blend of formal and informal moderation and more importantly the pre-workshop preparation done to get all participants on the same page. One had a similar experience earlier with another such workshop on Employee Relations. Why am I mentioning these workshops 'here and now'? They were facilitated by Ganesh and Harish, who along with VJ Rao have authored the book "HR – Here and Now". The book is a rich distillation of many such interventions that the three authors have anchored and experienced.
Few months back, I first got to hear about this book when they were collating organizational experiences. Having known all three of them, I am not at all surprised at the narrative style adopted by them – a style that reminded me of Rahul Dravid known for his understated elegance, sharp cricketing brain, effectiveness not only on field, but also off field, nurturing some of the finest young cricketers.
There is something refreshing, something 'hatke' in the book, different from many others that I have read in the recent past. And I was wondering why I was getting that feeling – was it a bias of having known the authors, or was it the fact that I could manage reading the book within 24 hrs? I realized later that I felt so because of my alignment with the thoughts expressed, a sense of relatedness with the different contexts and aspects covered, a sense of honesty in upfronting all issues however sensitive they may be, but most importantly, deep down it felt 'this is all about India and Indian HR'.
Why did I feel so? The answer literally lies in and between the cover pages. Let us look at the cover pages itself to start with. At a time when the trend is to talk of the future, they have opted to look at the 'here and now'. When the trend is to showcase a macho business oriented HR function, they have chosen to highlight the 'people champion'. I mentioned about Rahul Dravid earlier – a quintessential people champion. The back page in a way brings out the reason why the content of the book is both reflective and at the same time a practitioner's guide. To me the book not only aptly answers all the questions listed, but more importantly also answers the question "why does HR as a function evoke such strong and varied emotions amongst people?"
All that one needs to do is to visualize being in a coaching conversation with the authors as you move from page to page, chapter to chapter.
The seven chapters reminded me of '7 habits of highly effective people'. Each of the 7 chapters captures the core of an effective HR function. They are written in a manner that any HR professional or people leader can relate to. Books tend to be very heavy for young professionals or too simplistic for experienced professionals. The authors have navigated this challenge very deftly and retained a universal appeal.
So what makes me connect with the book?
· I felt involved as both positive and negative moments of my 30 years of professional journey started flashing by. The reading therefore became a two way process and I experienced a 'flow', similar to what Mihaly Csikszentmihalyi defines.
· Most of us have been brought up on 2×2 grids. The authors do not disappoint and two such grids, one based on centrality and helpfulness, and the other based on task demands and business preferences, serve as anchors for all subsequent chapters.
· The thematic approach to deal with all facets of HR gives a 'story-telling' feel, taking us on a smooth journey, rather than a gush of a T20 – more as cricket commentators say 'play session by session'. The theme 'Doing, Thinking, Feeling' reminded me of Myer Briggs Type Indicator that was very common sometime back. How CEOs' perceptions of HR get shaped by their own early experiences of 'Moments of Truth' with HR and their 'Frames of Reference' was an eye opener and made me wonder how the choice we make in responding to a query can have a life lasting impact for the profession at large. No wonder Stephen Covey said 'Moment of choice is a moment of truth'. Another interesting theme covered is 'Spectrum of Relationships', which could have been elaborated further. The Brakes India case was a very fresh perspective and an example of thinking out of the box.
· A challenge that one sees in today's context is the ability to link theory to practice. The authors have deftly weaved the same in their narration, be it the timeless Maslow's hierarchy or Herzberg's two factor theory or the late 50s work of Michael Young or the more recent studies like WorldatWork Rewards Model or Eliott Jaques Stratified Systems Theory.
· The cinematic start with the serial 'The Eye of the Beholder' remains a continued underlying part of the narrative, and the authors go on to suggest that the HR response had and will have to turn to other allied fields as well as its own scientific origins for insights and wisdom. This is also highlighted to a certain extent under 'professional origins and influences'. The authors end also with a cinematic reference to Auguste Gusteau in the movie Ratotouille.
· As you move from one chapter to another, from theme to theme, not knowing what lays in store, came a wow moment for me. It came because I felt that a topic not discussed so intensely would surely have not been covered even here, and then it just pops up on your face in the next theme. That wow moment was when I finished reading the theme 'Money and Beyond'. Lo and behold the next theme of 'Moment of Truth' discussed the whole topic of service orientation.
· It was heartening to see that focus on Employee Relations was not lost and figured amongst the seven specializations in HR. The tenets of ER got discussed as one of the themes, but the context was really laid out in the theme on 'Boundaries Redefined'. Coming towards the end of the book, to me it was like a delicious dessert at the end of a seven course meal. I would have however preferred it to be part of the main course, but maybe then the flow would have got impacted.
370 pages may not do justice to a combined experience of almost a century. In their quest to strengthen the HR profession, this book is just one more glorious test match that the authors have played leading their profession to victory. Just like we keep referring to epic innings of cricketers, this book will serve as a good reference for HR professionals of all vintages.
"Mindfulness is not a mechanical process. It is developing a very gentle, kind and creative awareness to the present moment" said Amit Ray. The authors have similarly traversed the path to create the here and now for a promising future. As Soulla Christodoulou said "You have to focus on the here and now. The future will work out itself".
Prabhakar Lingareddy is Vice President – Human Resources at ITC Limited's Agri-business. He was on the National Board of NHRD from 2007 to 2014. Prabhakar is an engineer from NIT and an alumnus of XLRI, Jamshedpur.
This book review was originally published in the July 2018 edition of the NHRD Journal.